Considering hosting a Mexican Fiesta at your home? Imagine delicious, creamy guacamole and caramelized onions on sizzling fajitas lining your table as friends gather around. With Benito's, no need to worry about waistlines and cholesterol when indulging in incredible authentic Mexican cuisine. Benito's offers a variety of great tasting, authentic Mexican that is healthy as well as delicious. The following provides options on how to eat healthy at one of the best authentic Mexican restaurants in Fort Worth, and goes on to share great choices for your next Mexican fiesta. Food, decor and more.
Tips on Planning Your Next Mexican Themed Party
Start out with a few decorations. Flowers, paper lanterns, even streamers can add a colorful backdrop for your party. Just make sure to use bright, bold colors. Lime green, bright blue, and hot pink are all great colors for a fun fiesta. Add a pinata for the kids, or the adults, and you've got a fun activity everyone will enjoy. In addition to Benito's great appetizer options, add both color and another healthy option by cubing brightly colored fruit such as watermelon, honeydew, and cantaloupe. Mix the fruit together in a clear bowl or plastic cups so the pretty colors will show through. Once the This makes a sweet, low-fat appetizer to nibble on before the main fiesta dishes are served. Now all that is left is to order fantastic entrees and drinks. That's where Benito's comes in. When planning any type of Mexican-themed dinner or celebration you want to make sure to include authentic Mexican food.
Healthy Options When Eating Mexican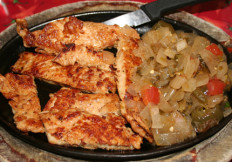 There are lots of delicious, healthy choices that are part of a traditional Mexican menu. Make sure to load up on tomatoes, onions, lettuce, and salsa. These types of veggies are all healthy, low calorie, and can be placed separately in bowls so guests can add as much or little of each ingredient as they like. It's better to choose a whole grain or corn tortilla to wrap your burritos and enchiladas in when selecting entrees. Chicken and fish will be lower calorie than beef and are still packed with protein. Black beans and pinto beans are also healthy side dish options when enjoying Mexican food. Whether you're planning a mid-day, lunch fiesta or an evening, dinner fiesta, Benito's has options to make your event a success.
Choose Benito's Mexican Restaurant
Benito's Mexican Restaurant, located on 1450 West Magnolia in Fort Worth, offers several great tasting and healthy options for an incredible Mexican fiesta. Sizzling fajitas with shrimp or chicken, mouth-watering red snapper, and blackened tiliapia fish are just a few of the incredible entrees that are both healthy and great tasting. The many choices on Benito's menu proves that you can still eat healthy while enjoying Mexican food in Fort Worth. They also provide a kids menu as well as authentic Mexican drinks. Planning a party is easy if you're coming into the restaurant or taking the food home. Whether you're looking for a healthy Mexican meal or ready to plan your fiesta, visit Benito's today to get the party started.