We love our fans, we really do! From the moment we opened our doors in 1981 till now, you guys have shown up and expressed your appreciation for our commitment to serving authentic Mexican cuisine!
Without our regulars and not-so-regulars (not all of our fans can live close by!) showing their support for our restaurant, Benito's would not be the same today. With this in mind, and due to popular request, we've created our new Benito's t-shirts!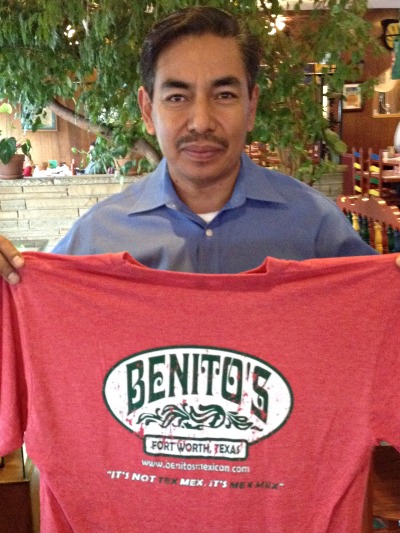 If you're a fan of Benito's and want to show the rest of the world how you feel, now you can! As the ever-obliging Arturo shows above, our t-shirts are a warm red color, with the Benito's logo and "Fort Worth, Texas" prominently displayed above the phrase:
"It's not Tex-Mex, it's Mex-Mex!"
Benito's T-Shirt Sizes & Prices
Small…………………$12.95
Medium…………….$12.95
Large…………………$12.95
X-Large………………$12.95
XX-Large…………….$13.95 
If you'd like to show your love for Benito's, come to the restaurant and get a t-shirt!